Bambolim Beach Resort
Nunes beach, Bambolim, Goa, India
GOA, Code No- AT-GA 39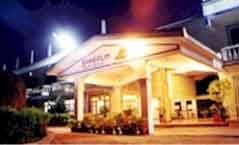 Bambolim Beach Resort started in 1989. As a 57 room resort set in six cottage blocks with rooms done up in a rustic style. Now expanded to 126 rooms with the addition of the new 69 rooms main block with highly polished Granite flooring and all the modern fittings in 1996. Fully Air-conditioned. The resort is situated right on the beach front. But what sets it apart from the rest is the peaceful atmosphere set in lush green tropical surroundings to give you the most relaxing holiday you've ever had. The swaying palms, the soothing sound of the sea mingling with the singing of birds give you a perfect impression of what life in Goa is al about. Centrally located in Goa, Bambolim makes an ideal base ofr those wishing to travel around Goa, isolated and quite, and yet just 7 kms from Panjim adn close to the main sightseeing places in Goa, the Resort makes a nice home to come back to.