Bogmallo Beach Resort
Bogmalo Beach Resort, Goa, Code No- AT-GA03.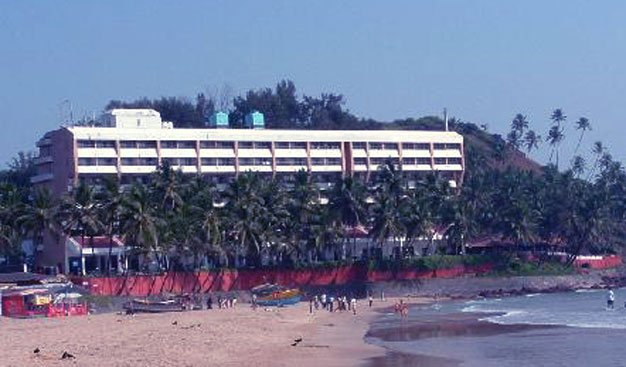 Welcome to the Bogmallo Beach Resort and discover a new meaning to a fine goan holiday.Just a 10- minute drive from the airport, located on the secluded white - sand Bogmallo beach, the swaying palms and wispering waves make it an ideal scenario for a perfect holiday.An elegant display of architecture with a distinct mediterranean atmosphere permeates the ambience to create a serene, quite getaway.
Relax and savour the panoramic view of the 123 deluxe rooms and suites open out to the serene charm of the Arabian sea and enjoy the glow of the setting sun as it spreads over the brilliant interiors. Pamper your taste buds at 'The Verandah', the beach front coffee shop. Indulge at 'The nautilus', which offer some of the finest choices in food and drink. The open poolside gazebo restaurant is a gourmet's delight with its delectable grilled seafood. "Coconut Grove" our Goan & Indian specialty restaurant offers 5 star experience at basic price.
Catering to your business needs are three conference halls equipped with modern facilities that can accommodate 80-120 people. These halls transform into an ideal party venue for get-togethers you will thoroughly enjoy. Add some more fun to your agenda at our cascading swimming pool and Jacuzzi, health club with steam and sauna facilities and the rejuvenating Ayurvedic massage therapy. Indulge in a fascinating array of water sports or flirt with lady Luck at our popular casino ' The Fortune Club."
Facilities Available
Foreign Exchange, Travel Counter, Private Sightseeing, Board room, conference halls, 24 Hours Taxi Service, Doctor On Call, Wire free Internet, Business Centre.
How To Reach Hotel Bogmalo Beach Resort
Bogmallo Beach Resort is situated 8 kms northwest from the port town Vasco da Gama and is also near the airport. Bogmalo Beach Resort is easily reachable by any tourist.

Apart from the fact that this hotel remains Goa's most reputed resort, its location also makes it a sure hit among the tourists.

There are several modes of public transport that can take the guests to the Resort. We are at a distance of only 4 kilometers from the State's International Airport hence traveling to the resort is not much of a hassel.

The railway station and the bus stand both lie only at a distance of 9 kilometers away from the resort.

The picturesque location of Bogmalo Beach Resort almost equates a fairy tale that simply oozes out a bit of romanticism and mysticism. Situated on the secluded white sand beach of Bogmalo we are close to the usual hustle-bustle of human life but at the same time manage to maintain its sanctity and mystique.